Manufacturing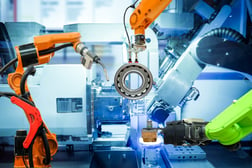 Enjoying success as a manufacturing company requires a full spectrum of special capabilities including creativity, vision and ingenuity. It also requires that you address tough issues such as rising labor and input costs, increased overseas competition, shrinking margins and rapidly changing technology.

BKHM believes it takes more than ordinary solutions to succeed today. That means it takes more than an ordinary business consultant. It requires a business advisor with proven experience in assisting other manufacturers – someone who can give you ideas, not just information, and someone who knows both you and your industry. But most of all, someone you can trust.
BKHM provides comprehensive support ranging from traditional accounting services to more proactive advisory services including:
Audits, reviews and compilations

Audits of employee benefit plans

Tax planning and compliance

Strategic planning

Industry benchmarking

LIFO analysis

Merger and acquisition assistance

Business plans, projections and forecasts

Assistance with obtaining financing

Gross profit analysis and reconciliations

Incentive plans and employee benefits

Internal financial controls

Cash flow management and budgeting
To learn more about BKHM's services to the manufacturing industry, please contact us at 407.998.9000 or bkhm@bkhmcpa.com.