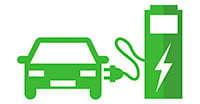 The IRS has added more electric vehicles (EVs) to its list of those eligible for a federal tax credit. The tax code provides a credit (of up to $7,500) to purchasers of qualified plug-in electric-drive passenger vehicles and light trucks.
Here are the new eligible vehicles (all are 2023 models): Hyundai Genesis GV60, Jaguar I-Pace (HSE), Land Rover Range Rover SE PHEV, Land Rover Range Rover Sport Autobiography PHEV, MINI Cooper SE Hardtop and Subaru Solterra. Click here for a full list of qualifying vehicles and the credit amounts.
The EV tax credit begins to phase out when 200,000 of a manufacturer's qualifying vehicles have been sold in the United States. But automakers are asking Congress to change the rules. In a letter, GM, Ford, Chrysler and Toyota asked Congressional leaders to give all electric car and light truck buyers a tax credit of up to $7,500. The group says that lifting the limit would give buyers more choices, encourage greater EV adoption and provide stability to autoworkers. Already, GM and Tesla have run out of credits and Toyota is close. As the carmakers stated, they believe "a sunset date set for a time when the EV market is more mature" makes good economic and environmental sense.