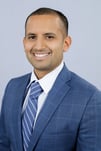 The Standing Ovation Program recognizes young CPAs holding the Certified in Financial Forensics (CFF) or Accredited in Business Valuation (ABV) specialty credentials who have exhibited exemplary personal achievement. The recipients in this year's class, who were honored during the AICPA Forensic and Valuation Services Conference, were recognized for their efforts to advance their fields, including volunteering at a variety of nonprofit organizations, speaking to local CPA groups, serving as volunteer experts to legal organizations and guest lecturing in college accounting classes.
"It's an honor to recognize this outstanding class of 'Standing Ovation' recipients who continue to go the extra mile to advance the profession and serve their communities," said Eve Simpson, director of valuation services for the Association. "They have offered their time to benefit their communities and the profession in a variety of ways that embody the spirit of volunteerism that the accounting profession is known for."
The 2021 list of FVS Standing Ovation recipients is in alphabetical order below:
Shivam Jadeja, CPA, ABV, BKHM, PA, Winter Park, Fla.

Courtney Lee, CPA, CFF, Berkeley Research Group, Washington, D.C.

Benjamin Kincaid, CPA, CFF, Carr Riggs & Ingram, Freeport, Fla.

Jason Schellhaas, CPA, ABV, Malcolm M. Dienes, LLC, Metairie, La.

Matthew Krofchick, CA, CFF, Krofchick Valuations, Toronto

Adam Hansberger, CPA, ABV, Eric J. Fernandez and Co., West Dundee, Ill.