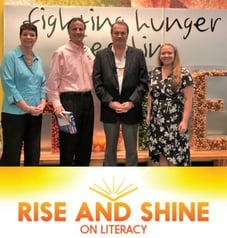 BKHM CPAs attended the Rise and Shine on Literacy breakfast for the Adult Literacy League in Central Florida

1 in 5 adults in Central Florida read at or below a 5th grade level.

For them, simple everyday tasks present real problems. Reading product labels, following street signs, or filling out job applications can be difficult and frustrating. Families suffer too. Parents with low literacy skills have trouble reading to their children and many don't even try. Sadly, the literacy levels of children are strongly linked to the educational levels of their parents.

Seeing the need for adult education in the community, our founders began the Adult Literacy League in 1968. Since then we have grown to provide Adult Basic Education and English Language classes, GED preparation, and one-on-one volunteer tutoring to over 2,500 students a year as well as serving hundreds of children and families through our Family Literacy program.