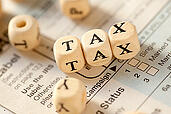 Work Opportunity Credits and Favorable Transitional Legislation
Background
If an employer has new hires in certain qualified target groups, these employers may be eligible for the Work Opportunity Tax Credits (WOTC). If certain conditions are met, these credits can vary from 25-40% of qualified wages up to $9,600 of credits for certain targeted groups (i.e. disabled veterans). The WOTC program is administered by the Department of Labor and an employer must generally submit the necessary paperwork (Form 8850) within 28 calendar days of hire for purposes of determining the eligibility of an employee. The targeted groups available for the credit are as follows:
Long-term family assistance recipients
Qualified recipients of Temporary Assistance for Needy Families (TANF)
Qualified veterans (tax-exempt employers also qualify)
Qualified ex-felons
Designated community residents (living in Empowerment Zones or Rural Renewal Counties)
Vocational rehabilitation referrals
Summer youth employees (living in Empowerment Zones)
Supplemental Nutrition Assistance Program (SNAP) benefits (food stamps) recipients
Supplemental security income recipients
Qualified long-term unemployment recipients (for individuals who begin work after 2015)
Good news
As the result of transitional legislation (including the extension of the WOTC through December 31, 2019), the "28 day rule" is waived for purposes of submitting the Form 8850 for eligible hires during the period from January 1, 2015 through August 31, 2016. As such, the employer can receive these credits retroactively. To be eligible, the Forms 8850 must be submitted by September 28, 2016.
Please contact us for more information at bkhm@bkhmcpa.com or 407-998-9000.