The Ins and Outs of the Home Office Deduction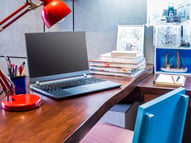 If you are a self-employed individual or are an employee who works exclusively out of your home you may be eligible to deduct many common household expenses incurred from owning and renting a home. The home office deduction rules are some of the most scrutinized and strictly enforced standards in the Tax Code by the Internal Revenue Service. The IRS as recently as 2013 has implemented a new simplified procedure (Simplified Option) for computing the home office deduction but still allows taxpayers to follow the original standards (Regular Method) to determine which provides the greatest benefit.
Before determining which method is right for you, there are two important requirements that must be met to be eligible for either deduction. First, you must regularly use a portion of your home exclusively to work from or run your business. You may designate a whole room or partition a space but this designated area must be used exclusively for work or business purposes and personal use is prohibited. Secondly, you must demonstrate that your home is your designated principal place of business. Even in cases where business takes place outside of your home you may still qualify for a home office deduction as long it is the primary place where your normal course of business is conducted. If you are an employee you must demonstrate that your home office is for the convenience of your employer and you don't currently rent any portion of your home to your employer and later use the rented portion to perform services as an employee for that employer.
Now that you can determine if you qualify for a home office deduction, the next step is deciding which method is right for you. Under the regular method, taxpayers are responsible for allocating the direct and indirect costs of the operating expenses of their home between personal and business use. Generally, the allocation for determining which portion of your expenses is business versus personal is based upon the percentage of your home devoted to business use. In example, if the designated room or space used for business is 200 square feet and the total square footage of your home is 1,000 square feet, the business percentage use of your home is 20 percent. Among the expenses that may be deducted using the regular method are real estate taxes, home mortgage interest, property insurance, repairs and maintenance, utilities, cable, telephone, internet and even a depreciation deduction for those who own their homes. Keep in mind that the deduction cannot exceed the net income derived from the business for those who are self-employed or maintain a Schedule C.
The simplified method is an alternative method that allows taxpayers to deduct the cost of a home office but eliminates the calculation of business versus personal use of indirect costs and the associated burdensome record keeping of those expenses. Instead the taxpayer is allowed to take a deduction of $5 per square foot of the designated room or area used as the home office. This deduction is limited to a maximum of 300 square feet or $1,500. As with the regular method the deduction cannot exceed the net income of the business and employees who are reimbursed for their home office expenses will also not be eligible for the deduction. A strong benefit of the simplified method is it allows taxpayers to take full advantage of itemized deductions for mortgage interest and real estate taxes without any of the proration which may potentially reduce those deductions on Schedule A.
Taxpayers are allowed to elect the method that provides the greatest advantage and may elect a different method from year to year, however, once a method is elected in one year it is irrevocable for that year.
For more information on this topic, contact Greg Geibel at 407-998-9000 ext. 217 or ggeibel@bkhmcpa.com