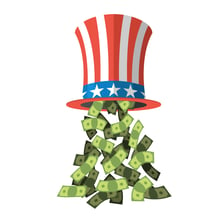 You should read this quick article if you live in the state of Florida, Nevada, South Dakota, Texas, Washington, or Wyoming. You might not realize this but the states listed above do not have state income taxes. Why is this important? When it comes to your federal individual tax return, those who pay state income taxes will get a deduction on their tax return. This deduction will reduce what you owe to Uncle Sam.
Individuals who live in the 6 states listed above do not pay state income taxes. However, I bet you are still paying sales tax on most purchases! The IRS will allow you take a deduction on your federal return for sales tax paid during the year. If you are only using the IRS estimator for sales tax then you could be missing out on large tax savings. One of the biggest issues with the estimator is that it caps income at $300,000. A person making 300k or 2 million will get the same deduction. I doubt they are spending the same amount on sales tax. The solution is tracking all of the sales tax you pay during the year. This may sound like a chore but with most bank and credit card summaries you can quickly figure out what you paid sales tax on. A quick tip is to keep track of the large purchases, i.e. boat, car, etc… sales tax on these items is added to the IRS estimated calculation.
Here is a quick example with easy round numbers... A person who has a salary of $200,000 and pays for items that total $100,000. If the same person lives in Orange County Florida (6.5% sales tax) then they will have paid $6,500 in sales tax. On the IRS website, that same individual would have received an estimate of $1,700 of sales tax paid. You can quickly see how tracking your sales tax will give you a larger deduction.
You will also need to be itemizing on schedule A in order to get a benefit. That might just be accounting jargon for some, but those who own a home will most likely itemize. If you have any questions about the sales tax deduction, schedule A (itemizing), or anything else tax related, please contact us at 407-998-9000 or email kmcnemar@bkhmcpa.com