8 Factors that help you determine if your business is for profit or a hobby.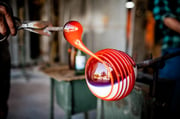 You started that new business looking for a little extra cash in the bank. Or you have a strong passion in glass blowing and start selling your art on the weekends. In addition you are excited about all of the business expenses you can now write off, like meals, art supplies, home office, and mileage expenses.

Let us pump the brakes for a second before running up a tab at the local art supply store. The IRS doesn't consider all businesses equal. Honestly, they consider a lot of them to be a hobby. Why is this important? If the IRS says you are only a hobby, then all income is still required to be reported to the government. However, you are only able to deduct expenses up to the amount of income reported. The expenses are further limited to only individuals who itemize. It gets worse; they are also subject to the 2% of your AGI limitation. (See an example at the bottom of the blog.)

The IRS said I can only deduct what? And why are they saying my business is a hobby? The Internal Revenue Code section 183, (which the IRS enforces) states that you must report net income 3 out of the last 5 years to be considered a business. If every year you have expenses greater than your gross receipts, then that's a red flag. The IRS believes those expenses are really personal in nature, and more for your benefit, not for growing a business. This rule is not the 'end all, be all', but it is a tool they will use to find potential audit targets.
The following 8 factors, although not all inclusive, may help you to determine whether your new endeavor is an activity engaged in for profit or a hobby:
Does the time and effort put into the activity indicate an intention to make a profit?
Do you depend on income from the activity?
If there are losses, are they due to circumstances beyond your control or did they occur in the start-up phase of the business?
Have you changed methods of operation to improve profitability?
Do you have the knowledge needed to carry on the activity as a successful business?
Have you made a profit in similar activities in the past?
Does the activity make a profit in some years?
Do you expect to make a profit in the future from the appreciation of assets used in the activity?
These factors will help determine the status of your new activity. If you fail to make a profit in the first 4 years that doesn't mean the IRS will come knocking at your door, but better play it safe and have a few reasons listed above on why you haven't.
If you have any questions about the article or need assistance with your business, please contact us @Kylan McNemar. For a list of services we provide please visit our service page.