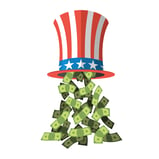 IRS Mileage Rates – December 26, 2016
The optional standard mileage rates for business use of a vehicle will drop slightly in 2017, which is the second consecutive annual decline. For business use of a car, van, pickup truck or panel truck, the rate for 2017 will be 53.5 cents per mile, down from 54 cents per mile in 2016. Taxpayers can use the optional standard mileage rates to calculate the deductible costs of operating an automobile.
Driving for medical or moving purposes may be deducted at 17 cents per mile, which is two cents lower than for 2016. The rate for service to a charitable organization is unchanged, set by statute at 14 cents per mile.